Clean air is safer
We have expanded our air purifier range with the IDEAL Hercules H14. When it comes to the best cleaning performance in a very short time, this robust, exceptionally powerful model has proven its worth perfectly. Thanks to the highly efficient HEPA H14 filter, pollutants in the ambi-ent air are reduced particularly effectively and quickly in large, public and heavily used areas. The inspection of every individual filter, as well as a corresponding test certificate, attest to this high level of performance.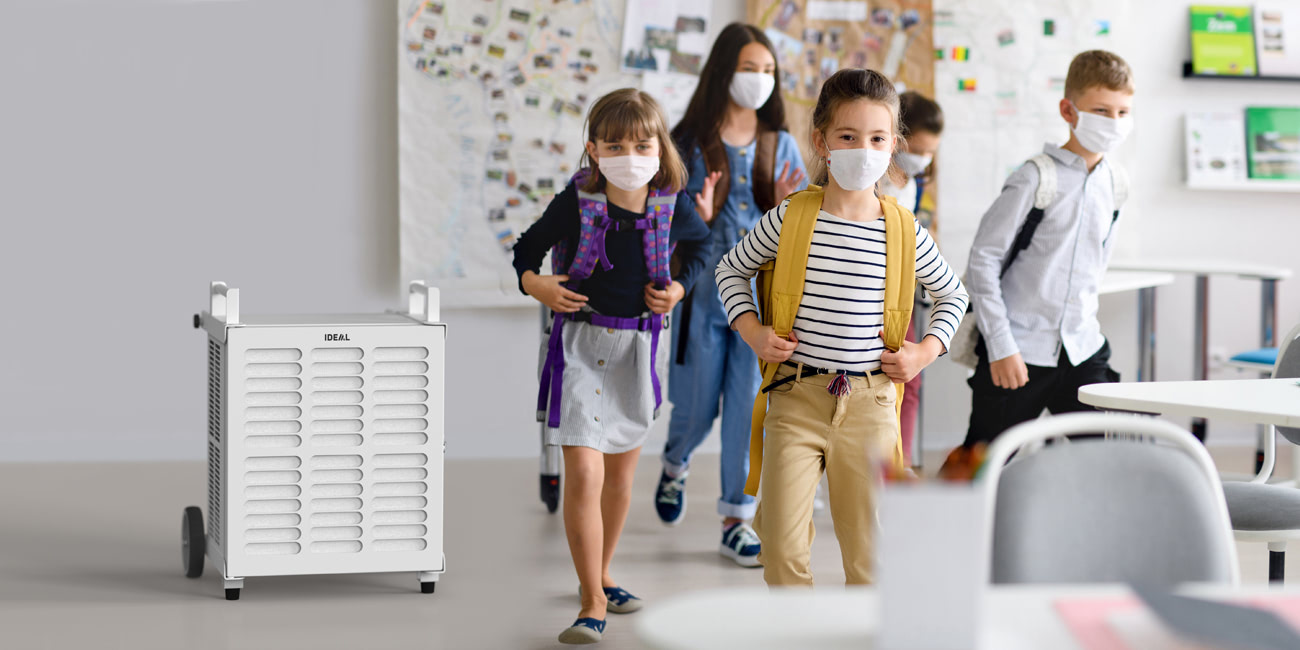 The topic of air hygiene indoors is gaining new significance. The risk of infection is especially high in places where large numbers of people regularly gather. Our new, mobile IDEAL Hercu-les H14 air purifier overcomes these challenges, reducing viruses and bacteria as well as aller-gens and fine dust in the ambient air. It therefore plays an important role in every hygiene con-cept and is perfectly suited, amongst other things, for use in offices, schools, kindergartens, as well as in public offices, canteens, gyms, treatment rooms and retail.
In areas that are heavily used, it is imperative to achieve the highest level of hygiene and in-creased safety, since large numbers of people congregate in these places. The exceptionally powerful IDEAL Hercules H14 air purifier ensures top results here thanks to a high airflow rate of up to 810 m3 of cleaned air per hour. In the first step, a high-quality prefilter fleece filters large particles of dirt and dust, before the contaminated air is then directed into the high-performance HEPA particle filter. This HEPA H14 particle filter then removes aerosols, pollutants and con-taminants, such as dust, fine dust (PM10, PM2.5 and smaller), pollen and other airborne aller-gens from the ambient air – and does so with a separation efficiency of at least 99.995% (for a particle size of up to 0.2 micrometres). The multi-layer particle filter also eliminates pathogens such as viruses, bacteria and mould spores highly efficiently from the ambient air. The multi-layer H14 filter (in accordance with DIN EN ISO 1822-4) thereby significantly reduces the risks of infection.