Air purifiers by IDEAL –
a key element of the HBW hygiene plan
In order to resume playing, the Handball-Bundesliga – the German professional handball league – has had to take a variety of steps in order to implement a consistent, future-proof hygiene concept. This concept takes into account a range of factors, including the topic of using air purification to maintain hygiene.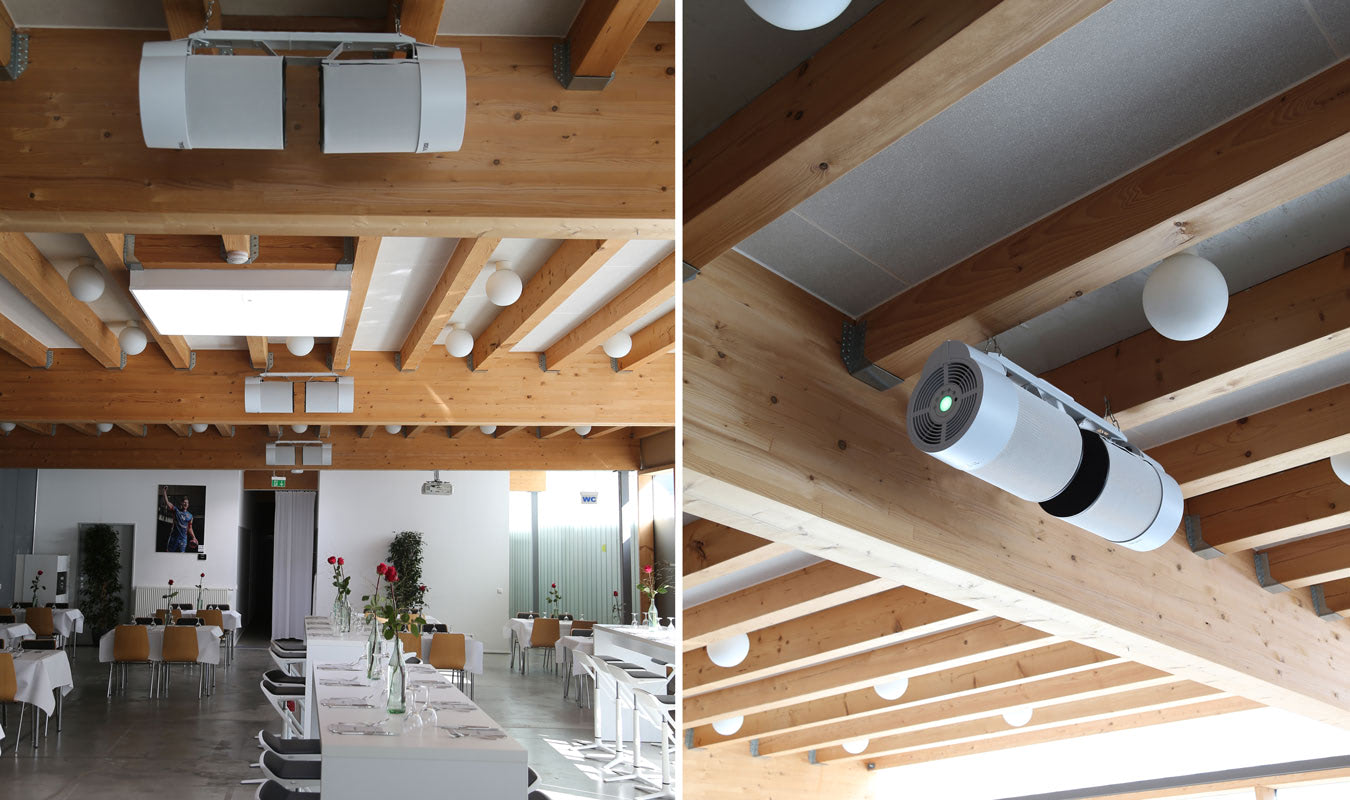 In this respect, the league's priority was to optimise conditions for spectators – most importantly in areas where people could come into contact and where the potential risk of infection is therefore high.
Daniel Priester: "This step is primarily intended to control and significantly reduce airborne infections – by which we mean infections which are transmitted through the air, for instance by inhaling infectious droplets, dust particles or even pathogens themselves. The first step was therefore to optimise the situation in the HBW pavilion with respect to hygiene using our IDEAL air purifiers."
Since Krug & Priester has been a fixed sponsor of the HBW Balingen-Weilstetten team for many years, representatives from HBW approached Daniel Priester, Managing Director of the Balingen-based company and air purifier manufacturer. After extensive consultation, it was decided that the best solution for the available space would be an air purifier ceiling unit. Four stable, high-quality ceiling brackets were fitted with eight high-performance IDEAL AP40 PRO air purifiers and attached to the ceiling above the bar and counter in the HBW pavilion. Its central placement ensures that it achieves an optimum airflow rate without sacrificing valuable floor space. The air purifiers are operated using remote control.
Daniel Priester: "Our IDEAL air purifiers guarantee consistently high air quality thanks to their highly effective multi-layer filters, which remove 99.99% of all aerosols, which could contain pathogens, from the air in the room, thereby significantly reducing their concentration. That's not all – they also remove allergens, pollen, fine dust and chemicals, as well as unpleasant smells. By circulating and cleaning the air several times per hour, the IDEAL air purifiers also decrease the dwell time of harmful pollutants in the ambient air. Our devices thereby supplement and enhance protective measures such as distance, dividing walls, surface disinfection and face masks. We have supplied a truly innovative solution for the HBW pavilion, where there is no option to simply open the windows."
As well as this specific purpose, these ceiling brackets, which are optionally fitted with either one or two mounted air purifiers, are also perfectly suited for use in private and public areas, especially areas frequented by the public and in offices. Examples of these areas include medical practices, group offices, shops, workshops and many more. For the greatest possible hygiene and increased safety wherever large numbers of people congregate together.